Spider Lift Hire from AFI Rentals
Compact and agile, many of our powered access equipment fleet consisting of Teupen, Hinowa, JLG and others can fit through standard single doors. They can manoeuvre through tight spaces and obstacles.
Non-marking access platforms
Light and gentle with non-marking tracks, tracked spider lifts are perfect for use in various indoor applications and have powerful and robust capabilities for outdoor applications. Their ability to climb stairs, work on steep inclines, access narrow areas, work indoors and provide a stable, easily transportable work platform at a range of heights and weight has secured their growing popularity.
Hiring a tracked spider lift can provide access to inaccessible areas using traditional cherry pickers, as the wide base of a spider lift distributes its weight and allows for use in cramped spaces. Its slim profile and compact design allow it to fit into buildings with limited access where other access equipment would have difficulty navigating.
Tracked Spider Lift hire for hard-to-reach places
A tracked spider is perfect for any job requiring access to narrow or hard-to-reach places. They exert low surface load with all-terrain capability, perfect for working on uneven, soft ground and delicate floors.
Tracked spider lifts, sometimes called tracked cherry pickers, are invaluable equipment for many industries. These versatile aerial work platforms can access hard-to-reach locations and are ideal for construction, landscaping, industrial maintenance, window washing or painting.
With tracked spider lifts, operators can move horizontally and vertically quickly and safely-making them popular for difficult-to-reach areas. Automation features mean spider lift operators can reach greater heights than other types of lifts while also atop very steep terrain with minimal effort. The spider lift is ideal for operatives in industries who engage in tasks like tree trimming or window cleaning, which generally require manoeuvring around obstacles.
Uses and Benefits of a Spider
Spider lifts, tracked cherry pickers, hybrid lifts, or tracked boom lifts are versatile equipment. They can be used in various construction projects like roof and ceiling works, window installations and maintenance of objects at height.
Spiders provide easy access to places with strange angles and tricky locations difficult access, allowing tasks to be completed in shorter amounts of time than when using ladders.
Working height manoeuvrability
Through their manoeuvrability, spider lifts allow precision handling, are highly stable, ensure low ground pressure whilst minimising the risk of injury or damage on site.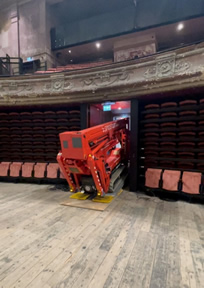 Tracked Hybrid Spider Lifts for indoor works
Tracked boom lifts are popular equipment for indoor use because they provide quick and flexible access solutions to otherwise difficult-to-reach areas. Spiders can be seen indoors in shopping centres, hospitals, universities, theatres, and other tall, often historic buildings.
Spiderlift hire for fragile flooring
They are great on fragile flooring, as they won't leave marks. The platform basket can quickly move personnel, the right equipment, and other materials upto ceilings, along walls, or around egress challenges, while maintaining a safe working space. Spiderlift hire is also ideal for duct and pipe work installation, as the platform basket and its compact size can easily manoeuvre into tight spaces.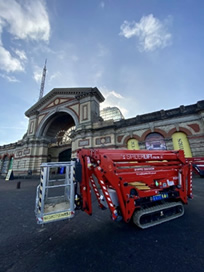 Lift Hire for window cleaning and building maintenance
Spider lifts are well-suited for tasks such as cleaning windows inside high buildings, performing maintenance work on stage lighting and audio systems, replacing ventilation grates or air conditioning units at height, and carrying out many other works at working height.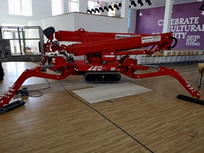 Tracked Spider Lifts for Outdoor Use
Tracked spider lifts are useful for outdoor tasks on rough terrain requiring significant heights. Most have a stabilising system and fold-down outriggers for secure working and remote control functions with intuitive controls.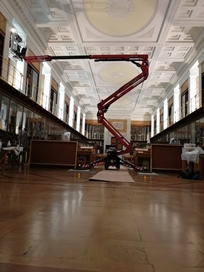 Applications suited to Tracked Spider Lifts
AFI platforms come in a range of heights and sizes, making them an invaluable tool for landscape professionals, construction companies, tree workers and UK local governments. They provide great manoeuvrability, are adjustable to meet different requirements, and offer aerial access and ground-level stability.
Using tracked access equipment minimizes risks associated with other access solutions, such as scaffolding platforms or ladders, while still enabling the efficient completion of tasks at height. UK Contractors needing access to limited space or challenging, rough terrain can use fold-down outriggers to work at height.
Spider Lift Training - IPAF and PASMA
We provide accredited IPAF training and PASMA Working at Height training from our 21 dedicated training centres throughout the UK or in some instances on suitable customer premises.
We have Nationwide coverage. Our friendly, helpful and professional team will help you hire the right equipment allowing you to help you find the right machine for your specific requirements for your required working height.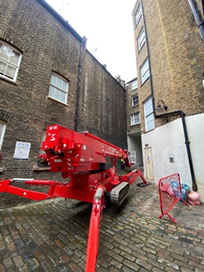 FAQs about Spider Lift hire from AFI Rentals