Articulating boom lift hire
Articulating booms are versatile and ideal for internal and external work where height, weight and outreach are required, allowing the work platform to access around and over obstacles. Models are available in a huge variety of sizes and features.
Boom lifts lifting a heavy load are best for applications where height and weight capacity must be maintained to access a barrier or obstacles on site. Boom lifts are commonly called cherry pickers. They are available for hire with various options to suit any application. Related product lines: Bi-energy boom lifts, rugged boom lifts, Spider boom lifts, tracked articulated boom lifts, lifts, diesel boom lifts.
Articulated boom lifts are designed with safety in mind and offer the highest performance levels. With excellent manoeuvrability, they can access narrow areas while providing maximum stability and reach heights up to 43.15m from ground level.
The controls are easy to use, making them ideal for experienced operators and beginners. The quiet but powerful engine also allows smooth and quiet operation, so you can get the job done quickly and safely with minimum effort. Furthermore, our maintenance plans ensure your equipment is always up-to-date. Our fleet of models is constantly evolving and being replenished with modern units, so you never miss out on the latest boom lifting equipment hire technology. You can rest assured that our articulating boom lifts will give you outstanding performance -whatever the task.
Electric Articulated Boom lifts
Electric booms are ideal for outdoor construction sites or indoor applications. Electric booms have no rubber brakes for traction. They provide access for working at height to the ground and are widely used by operators in facilities management, building maintenance and cleaning services. The articulated boom and electric lifts are suitable for a wide range of applications requiring compact design and easy ground accessibility at working height.
AFI Rentals offer electric MEWPs with low emissions, allowing boom lift users to work safely and efficiently with outreach heights of up to 43 meters. An electric articulated boom lift can safely support up to XXXX kg weight, making them a perfect choice for working in spaces within warehouses, airports, tunnels, Clean Air Zones, and high - reach outdoor construction projects. Additionally, a boom lift can be customised to fit any environment or project's needs regarding safety standards, capacity and height requirements, ensuring that no job is too challenging to tackle.
Electric articulating boom lift lifts work in narrow, tight spaces. With an operating height and weight of up to 43.15m, these machines make it easy to access hard-to-reach areas or tight space. Their ability to move horizontally and vertically allows operators to work around obstacles and reach heights and weight that would otherwise be impossible.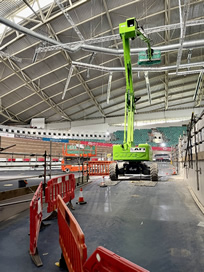 Bi-Energy Boom Lifts and Hybrid boom lift hire
Bi-energy boom lifts combine the convenience of electric power with diesel performance. These boom lifts are ideal for easy access for working at height and offer increased reach, safety, and added power when needed.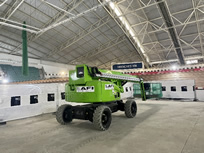 Diesel articulated boom lifts
Articulating boom lifts are an invaluable tool for construction workers who must work in high places in industrial applications. With a wide range of working height capabilities, outreach ranging from 11m up to 43.15m, and various positioning capabilities, they make even the most demanding jobs more accessible and manageable. Offering flexibility, lifting versatility and manoeuvrability, these articulated boom lifts can easily access hard-to-reach areas, allowing construction workers to reach higher heights with confidence and safety. Fitted with sophisticated control systems, articulated boom lifts, lift operators can rest assured that their job will be done safely and efficiently.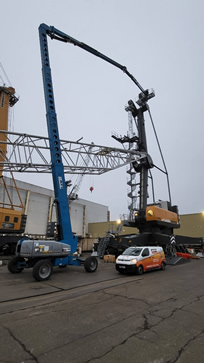 Articulated Boom Lift Training from AFI
AFI Rentals offers industry-accredited MEWP (Mobile Elevated Work Platform) training to ensure that anyone working at height can do so in the safest and most professional way. Our training courses cover everything from pre-use checks to advanced operation techniques, ensuring that individuals are fully equipped to operate MEWPs safely and efficiently.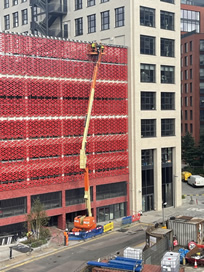 AFI Rentals - Continuously Investing in MEWP hire
AFI is dedicated to investing in environmentally friendly; battery-powered scissor lifts for transport with superior cycle times, capacity and reliability. To meet environmental commitments, the growing fleet of electric MEWPs is gradually replacing the diesel engine-powered fleet. This helps customers keep up with stricter emissions regulations.
FAQs about Articulating Boom Lift hire from AFI Rentals