What is a Scissor Lift?
Scissor lifts are horizontal platforms used to lift operatives vertically for various jobs in the manufacturing and construction industries.
Scissor lifts are named after the operating system's lift mechanism with criss-cross cylindrical hydraulically powered tubes that allow aerial lifting for working at height.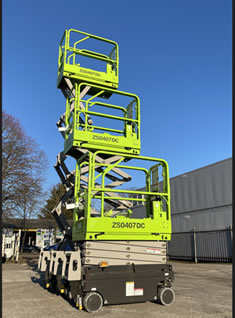 Electric Scissor Lift Hire
Electric scissor lifts make no noise, have zero emissions, and have long endurance.
Commonly used inside buildings due to their feature of solid non-marking tyres, which are great for working on finished floors (eg indoor building maintenance works) and capable of getting into tight spaces.
They offer safer low-level access to areas that ladders may have traditionally accessed.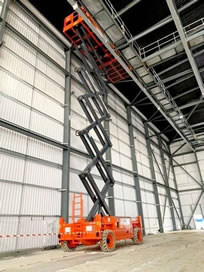 AFI Rentals - Continuously Investing
AFI continuously invests in battery-powered scissor lifts to offer customers environmentally friendly, high-quality equipment with excellent cycle times and reliability.
We have invested in our growing fleet of electric scissor lifts as we continue to replace our powered access fleet with specialist hybrid or electric equipment.
This enables our customers to comply with increasingly strict emissions regulations to meet environmental commitments.
AFI Rentals Electric Scissor Lift Range
Our range of low-emission electric scissor lifts have a range of working heights and can bear a safe working load of up to 1000kg.
Electric Scissor Lifts are ideal for work in:
Warehouses
Airports
Tunnels
Clean Air Zones
High-reach outdoor construction work.
Diesel Scissor Lift Hire
Diesel scissor lifts are often four-wheel drive and are commonly used outside on site where the diesel engine provides extra power to manoeuvre up and over rough terrain.
Diesel scissor lifts can include outriggers which provide additional support on uneven ground.
Scissor Lift Hire - Service Level Pledge
Your scissor lift hire experience is made easy with AFI.
We have a large, modern range of scissor lifts with various platform heights available to hire from our nationwide depots. We offer long-term and short-term scissor lift hires with our Service Level Pledge ("SLP"), whereby we are committed to fulfilling orders on over 85% of our fleet within the specified time.
24 Hours - Representing over 50% of our machines
48 Hours - Representing a further 25% of machines
72 Hours - Representing a further 10% of machines
Scissor lifts are hired to raise operatives safely to height to carry out work at height in various industry sectors, including construction, infrastructure, warehousing, industrial, facilities management and installations.
Hiring scissors lifts is extremely cost-effective and brings flexibility to job sites that require temporary access solutions for elevated workspaces during construction, manufacturing and maintenance projects.
Scissor lifts are usually self-powered by various means, depending upon their use. They can be powered by electric (most common scissor lift), diesel (for more difficult terrains) and hybrid bi-fuel that boast a combination of electric and diesel engines.
AFI Rentals Smart Off-Hire Process
Recently we launched a smart off-hire process using a MEWP-specific QR code on each machine.
This new system allows our customers to quickly and easily off-hire their scissor lift hire by using their phones to scan the unique QR code found near the ground controls.
As well as being able to off-hire using this QR code, customers can find important information about their scissor lift, such as the LOLER certificate, PDI details, reporting breakdowns, and machine familiarisation videos.
Scissor Lift Long-Term Hire
Are you looking to hire a scissor lift on a long-term or contract basis?
We can help you find the right equipment for the job at the right price to save money over the length of your hire.
FAQs about Scissor Lift hire from AFI Rentals